Favorite Fall Trend #2:  Mustard, Berry, Cream, Camel and Navy Color Palette
These gorgeous colors make me so happy!  When I went on my shopping spree at Polaris Fashion Place every store was fluttered with these.  My favorites were at The Limited, J Crew, and Madewell.
I found this sweater at the Limited and immediately knew I had to have it.  It has all of the fall colors I spotted at the other stores.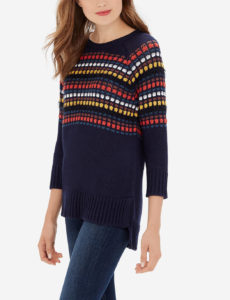 And the colored denim was on point! I ended up buying the berry colored denim, but might go back for the mustard color ones.