HEY THERE! So glad you are here….I've been MIA and I'm sorry! But guess what…..I'm back!! I had to come back, right? Because it's fall and fall is the best season of the year. Why? Boots, scarves, cool and sunny weather, football, pumpkins, cider….and of course, awesome fashion! I was recently asked to go through one of our best local malls here in Columbus, Polaris Fashion Place, to show what I find and let me tell you, it was AMAZING! They supplied me with a giftcard to Starbucks to fuel my shopping spree along with a bag of goodies from some of my favorite spots including Madewell, Von Maur, LuluLemon, and The Limited, just to name a few!
Take a look at my 5 favorite fall trends
Favorite Fall Trend #1: VELVET!!!
Where are all of my velvet clothes from middle/high school?!?!?
How many times have you said that to yourself? Maybe not velvet specifically, but definitely trends from the 90s/early 00s that you wish you wouldn't have thrown away?
Velvet is back and it's SO good.  I found these adorable velvet pumps at J.Crew (also ON SALE)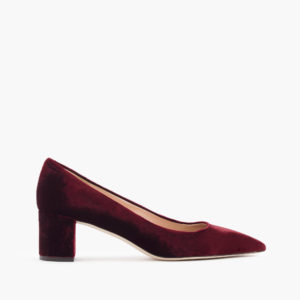 There is velvet everywhere!  I also found some great items at Anthropologie that I'm digging
This kimono jacket is like…..
And my favorite
Velvet is BACK and better than ever.