Hi all,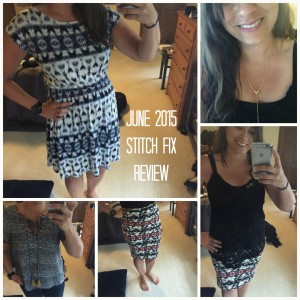 I'm now OBSESSED with Stitch Fix
.  I can't get enough (thank you Kacey for doing this to me!).   I upped the frequency of it to once a month! Shopping is not something I shy away from, but for me I love the thought that someone else is picking something they think I might like.  As an overview, I ended up keeping two of the items and sending three back, but was really wavering on those three.  Here goes a detailed review of all that I received..Thank you Jasmine!
1) Kelly Dress by  Papermoon ($64)..Keeper!!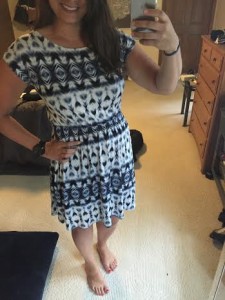 Similar here.
Let's talk about this dress. I absolutely LOVED it.  It's not one that is really my style, but is was so comfy and different from what I have in my closet.  I actually wore this to my friend Brooke's baby shower with this Trouve Draped Jacket, Bauble Bar Tassel Necklace, and Steve Madden Sandals. 
2) Melissa Skirt by Renee C ($48)….saw it and kept it immediately!
Similar here.
I have always had my eye on skirts like this and have never actually bought one.  My stylist saw on my pinterest board that I do indeed love skirts and have pinned a LOT, so she sent me this.  It is really comfortable and stretchy, but at a length that doesn't make me feel like a street walker! I also love this print so much.  I was thinking of pairing it with a black t-shirt, dainty necklace, and fancy flat sandals…with a fun off colored clutch..what do you think? Can I wear this to work too?
3) Crochet Top by RD Style ($54) ….sent back
Surprisingly, this fit me really well and didn't look half bad. Side note: see Ruby in the background?!?! She loved this one.  My only issue was that it is see thru and I'm just not a fan of things you have to wear a cami underneath (disregard that when I do end up wearing my lace shirts).  I wouldn't wear it nearly enough to do it justice and I could see Ruby getting really excited, jumping up, and ripping it apart.
4) Peasant Top by THML ($58) …sent back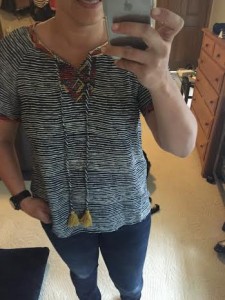 Similar here.
I was SO wavering about this one.  I had to wait until I saw my mom to see what she thought.  It was such a nice material, laid perfectly and is definitely my style, but ultimately I made the decision to send it back…kind of regretting it 🙁
5) Lariat Necklace by Gorjana ($75)..sent back
I really liked this necklace (didn't love), but really this one was about the price tag! It was $75 and since I didn't love it, it was put into the send back pile.   I have so many necklaces similar too!
For those who are not on Stitch Fix
yet, I highly recommend it.  It is $20 a 'fix' which is really the styling fee (no shipping costs) and if you buy something then the $20 goes towards your purchase.  Click here to sign up –> Stitch Fix