Hi! You are here!  And guess what, I'm so excited about that!
You are probably here because you are already a Stitch Fix subscriber and want to know how to get absolute BEST pieces from it, but before I get to the top tips on how to make the most out of your Stitch Fix experience….some of you may NOT be a subscriber and I want to tell you why you should be.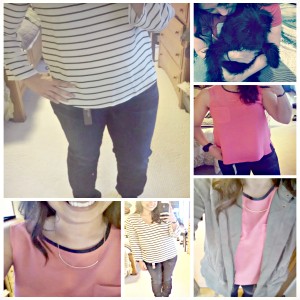 So, what is it?  Stitch Fix is a personal styling service that will send you five items (which could be accessories, handbags, or clothing) that you can get either once every two to three weeks, once a month, or once every two months or you can customize it to have it delivered whenever you want.   I started with once every two months because I thought….I don't need to add to my shopping addiction.  BUT, guess what? I'm up to once a month right now…..I'm obsessed.
It only costs $20 per fix (the styling fee), but if you buy anything from the box you can apply the $20 to that piece.  Also, if you decide to buy all 5 items that you get, you will receive an additional 25% off everything.
All I can say is that for my first fix, my stylist Jasmine, absolutely nailed it.  So much so that the only reason I didn't keep a couple of the items is because I already owned them or something very similar.  Here are the pieces:
1) A Bar Necklace
So because I had it already, I sent it back 🙁
2) Pink Top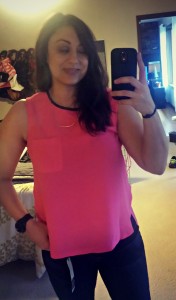 I wanted to keep this top so bad because I loved the color, but the back was completely see-thru! I know that's a trend right now, but I am not a fan of wearing a tank under or seeing my undergarments! Sent back 🙁
3) Jeans: Kut from Kloth
These jeans fit perfectly, but again…I had almost the exact same ones.  I actually have a gray pair of Kut from Kloth jeans just like these and am obsesssseeddd!  I will say these were just a tad too long on me (see bunching at the bottom).  I'm around 5'5″. Sent back 🙁
4) Green Cargo Jacket
Once again…already have almost the same one.  I have a thicker green cargo jacket without a hood and a thinner version of this coat (BB Dakota) in navy from one of my favorite local shops here in Columbus, LadyBird! So…I sent it back 🙁
5) Striped V-Neck Top
This shirt fit perfectly and I thought about how many other pieces I can wear it with.  I'm thinking my blue skirt for work or my plum jeans for a casual look.  Kept this one!  🙂 And I ended up only paying $28…it was $48 and then my styling fee of $20 went towards it.  So worth it!
All in all, I love Stitch Fix.  I was so excited when the box came and I thought the stylist did such a good job capturing my style that I upped my auto-shipment to once a month!  I highly recommend!
Finally….I've been trying to make sure I post at least twice a week, but a lot has happened in the past week.  For starters, my stitch fix, but if you haven't noticed…I had a blog redesign!  Thanks Chelsea for making it look so pretty!  And last but not least…I adopted a rescue pup named Ruby from One Mission Dog Rescue here in Columbus!  Thanks Clare! She is the sweetest thing ever and I just adore her…
Let me know your thoughts on Stitch Fix, the new blog design, and my Ruby!