My obsession with watches is definitely growing!  I decided that I can't get an Apple Watch because I love switching up my watches so much and that is one that is sounds like you have to wear every day.   I have pretty much every color watch you can imagine along with every type of material……silver, gold, two-toned, silicone gray, rose gold, leather…the list goes on.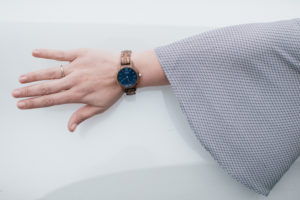 The one I did NOT have is a wood watch.  How could I have gone this long without a wood watch?  I mean, think about it…wood could go with EVERYthing, right?  I recently partnered up with JORD who makes the most gorgeous wood watches for both men and women.  Now, what has happened is that fear I had with the Apple Watch…it's happening with the wood watch.  I can't stop wearing it.
I picked the Frankie 35 series watch in Zebrawood & navy (picture above).  The navy color really pairs nicely with the wood.  I can't tell you how many compliments I've gotten with this watch.  And how about that packaging?  This is definitely packaging to keep.  It comes in a cedar case with a small little drawer at the bottom that has a humidity control pack in it, as well as a small brush with preserve cleaning oil to clean and polish your watch when needed.  It's all in the details, right?
GIVEAWAY TIME!!
I love this watch so much that I'm doing a GIVEAWAY!!  One lucky reader will receive a $180 JORD e gift card to pick one of their own.  All you have to do to enter is go to this link:
1) Fill out the form in the link above
2) Make sure you are following me on Instagram @afancywrinkle
Giveaway will run through 3/19/17 at 11:59pm! The gift card will expire on 6/30/17. Also, we will randomly select the winner, and email them, along with everyone who enters their prizes when the giveaway ends!  Easy, right?
If you do not want to enter the giveaway, but still are interested in getting a woodwatch from JORD, here is an exclusive code for my readers that will give you 15% off any purchase.  Just enter cfjord15 at checkout.